Mulch Surfaces for The Playground
When it comes to choosing a cover for your playground, there are multiple materials on the market such as pea gravel, artificial grass, natural grass, sand, and mulch. According to the experts, the safest in terms of saving falls are the varieties of mulch: wood, rubber tire, and non-toxic. This is important, because an estimated 80% of injuries on a playground are from falls.
Although there are many similarities between the three types of mulch, they also differ in important ways. Making such an expensive, important safety decision is not always easy. So, we're outlining the key points of each to help you choose the safest playground cover at the best value.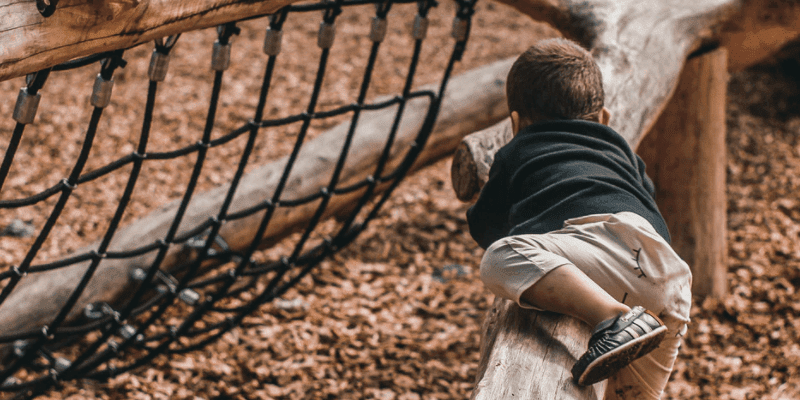 Wood mulch is a common playground surface, it's inexpensive, and breaks falls on par with rubber tire and non-toxic Jelly Bean mulch. However, there are multiple downsides of wood mulch that can cause injuries to your child.
Mold – Since the wood hasn't been treated with anything, it begins to mold the moment it gets wet. Children then breathe the spores in. It can affect the respiratory system of any child, but those with allergies and asthma are the most susceptible.
Splinters – Splinters are a natural consequence of using real wood, and younger children might not want to play on this surface if they are afraid.
Freezing – Wood absorbs water, so it freezes in the winter. This will offer your kids absolutely no protection from falls. The frozen surface will encourage falls and could send your child to the emergency room.
Decomposition – Mulch made of wood decomposes quickly. Like a new car, the value of wood mulch plummets as soon as you get it off the lot. Unlike a new car, you will have to replace this playground cover at least once a year. Over time, this adds up.
Accessibility – Wood mulch is not ADA accessible, meaning children and families in wheelchairs will not be able to use the playground.
Even though it's illegal in the United States to dump your tires in the landfill, they end up recycled into rubber tire mulch. Also referred to as tire crumb or crumb rubber, the finished product ends up on playgrounds, running tracks, and outdoor sports complexes.
Since this type of mulch is so prevalent, it seems to be safe. Unfortunately, even tires made in the United States contain damaging chemicals.
Phthalates – used to soften plastics, affects the kidney, liver, lungs, and reproductive system.
Polycyclic Aromatic Hydrocarbons (PAH's) – When the temperature rises, PAH's are released. The EPA suspects breathing them in causes cancer and birth defects.
Lead – No amount of lead in a child's bloodstream is safe. When rubber tire mulch, sand, and wooden mulch were tested, tire crumb had 2 to 3 times more lead.
Despite the negatives, there are also some positives. Tire crumb is generally soft, so in terms of falls and roughhousing your child will be protected. This type of mulch also lasts a long time and is more affordable.
Non-Toxic Jelly Bean Rubber Mulch
Non-toxic Jelly Bean mulch is a virgin rubber mulch made from non-toxic, sterile and latex-free rubber tiles. 
Clean – You won't have to worry about your kids breathing and rolling around in tire crumb toxins. Want to use our product indoors? Go ahead! It has exceeded California's guidelines for indoor use and air quality.
Certified Safe – Our Jelly Bean rubber mulch has received 5 different certifications and the best test data in the industry. This includes head impact attenuation testing so your child will still be safe if they fall on their head. Jelly Bean has also been ADA approved, so it's accessible to wheelchairs.
Promise Kept – Jelly Bean is so confident in the product, they provide a 20-year warranty on their vulcanized materials.